Industries
19. June 2020 By
Financial Services Technology In 2020 and Beyond
New technologies are emerging in the banking and financial services industry as a result of ever-changing customer expectations. Rapid sociological changes and advances in technologies are pushing financial institutions to become transparent and abandon conventional ways of doing business in banking and finance. With transaction processes being layered for privacy and safety reasons, customers are offered a large amount of customization in terms of products and services.
Nowadays, financial institutions are reshaping themselves as technology companies rather than just traditional finance companies. This means that they are becoming more and more successful, agile and competitive. That also ignites the amount of technological investments in the industry overall, and all new developments are closely being watched to be evaluated for practical use in the industry.
In addition to that, we see smaller companies emerge with great help of technology and with new regulations making these types of organizations legitimate.As a result, the traditional financial institutions will not be able to cope with the disruption caused by this shift. We call this "FinTech disruption".
Digital transformation in the financial sector has gone beyond being just a buzzword now, as whole business models are being shaped in accordance with the new norms brought to the picture by the digital transformation. According to a survey with financial managers conducted by Gartner, 62% of respondents consider digital transformation as a management initiative, while the remaining sees it as part of optimization.
When we look at 2020 and beyond, it is easy to say that new technologies will transform the banking industry as we know it and will provide both opportunities and challenges for financial institutions. And to achieve high success, institutes must undertake structural reforms between internal and external processes and systems.
Discover new business opportunities, choose prominent technologies and utilize ideal methods of implementation with adesso's unique methodologies.
Emerging Technologies in the Financial Services Industry in 2020
Businesses will continue to use FinTech (Financial Technologies) to create new and leading business models. Therefore, innovation, driven by technology in products and services will continue to rise at full speed. According to a report, FinTech's worldwide adoption rate grew by around 64% in 2019.
Let's take a look at the trends in global financial services technologies that will help banking, insurance, and other financial institutions increase their accessibility, provide convenience and, most importantly, build trust.
1- Big Data and Data Analytics
Data plays a key role in the banking and financial services industry and, when used with technologies such as data analysis, offers businesses incredible value in many ways.
Data analysis allows financial institutions to successfully process data. This enables them to gain actionable business information that helps decision making, product development, risk management, fraud detection and many more.
On the other hand, big data and data analytics also help financial businesses to review past performances, optimize ongoing tasks, processes and functions, learn more about customers and expand their vision by making predictions about the future. This will fuel the AI adoption in the industry which will be mentioned below in the article.
In 2020 and beyond, more and more financial institutions are expected to use data analytics as a digital strategy to capture, control and organize data because this will help them create an efficient, smarter business and open up a new world of opportunities.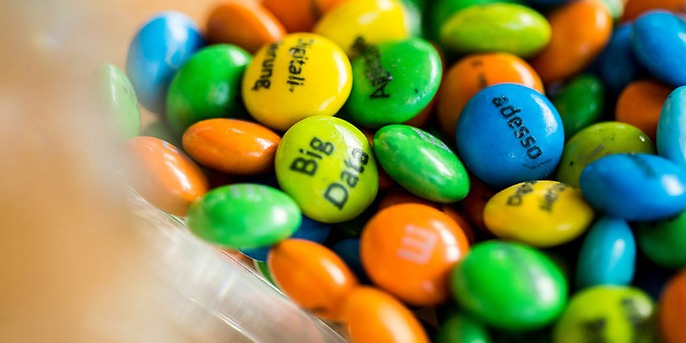 2- Artificial Intelligence and Cognitive Technologies
Artificial Intelligence (AI) covers versatile aspects of the global financial services business. Its best use is seen in financial services technologies.
According to Forbes, artificial intelligence's expected potential by 2023 for the industry is $ 447 billion in cost savings. Thus, 52% of executives have already confirmed that they are making "substantial" investments in AI.
AI is a very powerful instrument in services technology that allows financial institutions to overcome human-error related security issues and easily detect fraud. The high computing and cognitive capabilities offered by Artificial Intelligence enable financial institutions to work efficiently in risk management, decision making, as well as other technologies such as big data analysis, robotic process automation, and voice interfaces.
In addition, it helps consumers customize financial products and services, make budget analyses, receive savings suggestions, and realize the best digital payment and mobile banking experiences.
3- Blockchain
Since blockchain technology is one of the most important technologies that instills security and accountability in products and service delivery environment, it is certain that it will keep being the backbone of the sharing economy.
Blockchain can support banking in a variety of ways. A good example is that of Bitcoin being used for payments. It can also be transformative in the way capital markets work by tokenizing traditional bonds, stocks, and other assets. Blockchain technology will remove borrowers and third parties from the loan and credit system, and make it safer to borrow money and lower interest rates as well.
Blockchain technology, on the other hand, reduces dependency and supports proper bookkeeping, as it examines transactions in a cost-effective, decentralized, and verified way.
Thus, Blockchain technology will continue to be one of the most important financial services technologies that support transparency and trust, the two most important aspects of the financial industry.
4- RegTeck
It is estimated that approximately 15% of the workforce in the entire global financial sector is engaged in "Compliance" tasks. According to some estimates, If 'Regtech' solutions were not available, the percentage of employees that would be hired for these tasks would increase significantly due to the regulatory needs.
Fortunately, RegTech allowed large financial institutions to apply the technology for these tasks, rather than hire more employees. There are already a large number of startup and financial service companies from 'Know Your Customer' (KYC) or 'Anti-Money Laundering' (AML) area, to regulatory reports, compliance verification, risk management, and transaction tracking.
Some experts predict that investment in 'Regtech' in the financial services industry will increase by 500% by 2020, and investment numbers will increase from $ 10.6 billion in 2017 to over $ 53 billion.
"RegTech isn't just adding technology to existing processes. It can change the way you think about regulatory compliance. Once you understand its transformative potential, you may find ways to create a competitive advantage."
David Choi US RegTech Leader
5- Robotic Process Automation (RPA)
Robotic process automation enables financial institutions to save labor and operational costs while minimizing human error. Because at RPA, the software is programmed to enable robots and virtual assistants to complete repetitive and labor-intensive tasks accurately and quickly.
Many financial institutions are beginning to take advantage of this technology to create the best possible user experience for customers and stay ahead of the competition. Another great feature of RPA is to help ensure compatibility in a highly regulated industry.
Today, thanks to RPA, customers can make quick decisions about many bank transactions because RPA helps banks deal with low priority queries from their customers in real-time through highly popular customer service chatbots.
In the 2019 Retail Banking Trends and Predictions report, it is seen that 65% of the banks finally made their digital transformation. And 81% of banks have initiated or planned to start a digital transformation strategy. This number will increase rapidly in 2020 and in the years to come.
We are ready to explore the unique digital transformation routes of your organization together with you. Our unique consultancy methodologies and deep expertise in banking & finance ensures the success of transformation projects.
Let's talk about how we can transform your business?